Industrial done differently.
Found Huntingdale exists for the businesses of the future. At times, running a business can feel like a lone journey. Now, it doesn't need to. Found Huntingdale provides a place you can call work, with the feeling of home — helping your business to connect, thrive and grow. 
This is where common-sense, community and calling collide.
Warehouses ranging from $475,000 – $1,300,000
Storage ranging from $170,000 – $350,000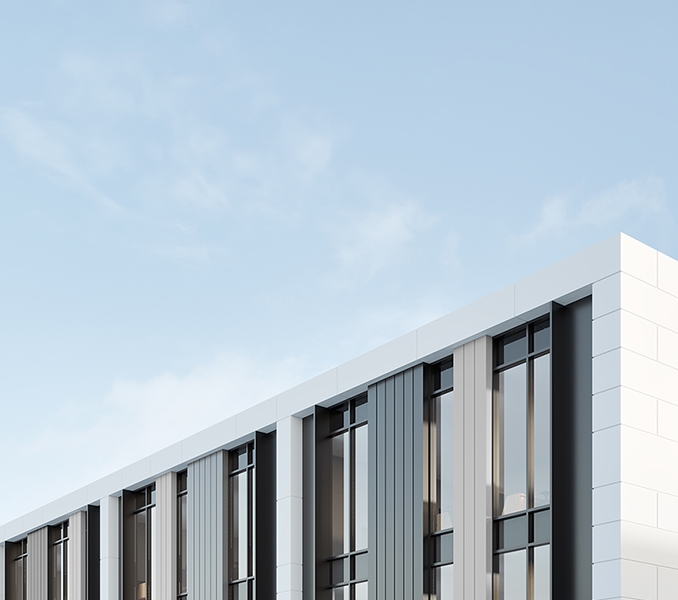 Architecture Vision.
Modern minimalism meets considered functionality.
With clean, vertical lines and neutral hues applied throughout the space, Found Huntingdale epitomises sophisticated minimalism. 
Every aspect of the precinct has been thoughtfully considered — from the high-end finishes, to the intentional functionality of both private and public areas. All to create a space that is worthy to house your dream, feel like home when you are at work and stand the test of time.
There are no concrete jungles here. This is industrial done differently.
Location and Culture.
The place where the future works.
At the convergence of gentility, practicality and proximity, is Huntingdale — a highly desired Melbourne locale with a small community ambience.
Bearing a name recognised country-wide for the prestigious Huntingdale Golf Club it is home to, Huntingdale is situated only 16 kilometres from the centre point of Melbourne. Think inner city prestige with the life balance of the burbs.
Within a short walk to Huntingdale Station and situated a mere minutes drive from the nearest M1 freeway entrance, the placement of Found Huntingdale exemplifies ease and convenience. It's where your business belongs.
Key Feature and Precinct.
A space to thrive and grow in.
Found Huntingdale is where common sense, community and calling collide. A state-of-the art collection of elevated industrial business spaces, Found Huntingdale gives businesses the space they need to thrive and grow.
Articulated facades with oversized windows allowing for light filled warehouses.
Varying warehouse sizes to meet your specific requirements. Warehouse spaces ranging from 93 – 342m2, with mezzanine office levels from 40 – 96m2, and flexible storage spaces from 30 – 73m2.
Fully enclosed mezzanine offices with viewing window, glass entryway and high-quality carpet or floorboards (optional upgrade).
Reverse-cycle heating and cooling to all offices for year-round thermal comfort.
Painted internal walls, dramatically reducing dust within the workspace.
Sealed and polished concrete flooring.
Remote-controlled roller door with 5m high clearance.
Fully provisioned kitchenette with stone benchtops, designer matte black tapware timber veneer cabinetry and integrated combination oven and hydro tap (optional upgrades).
Floor to ceiling tiles to all bathrooms, matte black tapware and spacious shower facilities.
Designated private on-site car parking for the exclusive use of staff and clients.
Three-phase power to all warehouses, separately metered to each site providing greater power density.
National Broadband Network (NBN) ready, allowing fast, reliable internet connection.
HEXA Group
HEXA is an Australian-based property development group grounded in local expertise and global strength. We offer end-to-end property development across commercial and residential projects, complemented by real estate investment, asset management and a capital management platform.
With over $1billion of projects delivered and under development, our expertise and capability at every step, from site selection through to construction and delivery, ensures the strength and quality of projects that stand the test of time.
Our vast capabilities and services work together to create a strong foundation of knowledge, expertise, and capacity to wwensure successful projects that empower the success of all.
Spectre Property
Spectre Property is a dynamic property development group known for their continuous pursuit of perfection, tightly coupled with a passionate and innovative approach. With every project led by design, Spectre Property create destinations that consistently challenge the status quo. The team has developed a significant number of premium business parks in metropolitan Melbourne that have all become destinations in their own right within suburbs they reside in.
With their capabilities and expertise in acquisition, development and management, Spectre Property consistently deliver successful outcomes for their project stakeholders in the commercial and industrial sectors.